Customer relationships are challenging to build and maintain, especially at large scales. That's why 91% of businesses with over 10 employees use CRM systems (Customer Relationship Management). CRM systems are designed to help companies build, manage, and improve customer relationships through features, software, or applications. 
Among the top CRM systems in 2021 are Salesforce, Monday, HubSpot, Microsoft Dynamics, Oracle Service Cloud, SAP, and more.
Companies using even the best CRM systems may find that maintaining long-term customer relationships challenging. a HubSpot reached found that lack of integration is one of the top challenges for businesses using CRMs.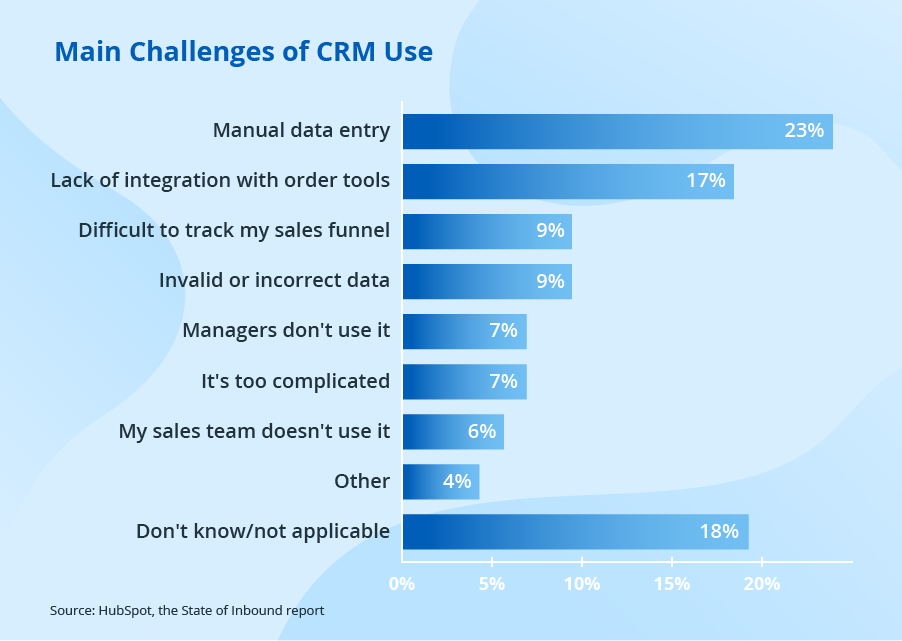 The solution is to have omnichannel CRM integration – external tools that can directly scale customer engagement and service from internal systems. 
Commbox CRM Integration – Build Long-term Customer Relationships Through Our Omnichannel AI-powered Platform 
Meet Commbox – a leading omnichannel customer communication platform that integrates with CRM systems such as Microsoft Dynamics, Oracle Service Cloud (RightNow), SAP C4C, and Priority ERP system. 
The Commbox CRM integration feature allows your business to define, manage and attach contacts to CRM's tickets. Using Commbox, you can effectively manage your customer communication directly from your CRM, using Commbox advanced CRM integration and tools. 
Microsoft Dynamics CRM

integration module – allows Microsoft Dynamics CRM users to define and create automated actions about any new object in the system. You can define new users and link them to a specific area in your system. 
Microsoft Dynamics is considered one of the leading CRM systems, with over 40,000 companies using it worldwide. Companies using Microsoft Dynamics CRM can easily integrate with Commbox to create strong bonds with customers by satisfying their expectations and requirements through an AI-powered system.  
Oracle Service Cloud

(Formerly RightNow) integration – Commbox integrates with the Oracle Service Cloud CRM seamlessly. Using Commbox, you can define actions, close chats and automate your work process, while always keeping records. 
Oracle Service Cloud CRM is used by enterprises worldwide. Any enterprise or company using Oracle Service Cloud can implement Commbox's multiple customer communication and automation solutions. 
SAP C4C CRM

integration – CommBox allows businesses using SAP C4C to connect contacts to tickets automatically. 
Commbox also integrates with leading service management solutions: 
Priority ERP – CommBox integrates seamlessly with Priority ERP (Enterprise Resource Planning), enabling businesses to capture all correspondences with their clients across channels and manage their customer communication more efficiently.
The CommBox for Priority ERP main features:
Easy and fast connector to the Priority ERP.
Define, manage and attach contacts to tickets
Full data integration – all correspondence is automatically saved in the Priority system.
Draw data from the CRM and use it during conversations and tasks.
Send mass messages using data from Priority.
Create automated actions to specific objects and chats in your CRM
SysAid – Commbox improves your helpdesk's efficiency by allowing  SysAid users to open tickets and attach contacts directly from the system
Commbox CRM Integration – Download the PDF
Why CRM integration is Important for Customer Experience
A majority of industry leaders (57%) reported that different departments in their organization have their CRM systems and multiple software and systems. As a result, organizations encounter difficulties communicating across departments. Another fact is that 17% of salespeople rate lack of integration with other tools as the most significant challenge using their existing CRM.
If your CRM isn't fully integrated with other tools, your business might provide a poor customer experience and lose revenue. Therefore, you must incorporate solutions that would effectively manage customer data across your organization. 
Find out more about the CommBox smart customer communication solution
Implement Commbox, Improve your Business Communication 
By integrating Commbox with your CRM, your business can become a fully omnichannel organization. Powered by AI, Commbox enhances your internal communication, allowing you to close gaps across departments by working from a central interface.  
Commbox drives your digital transformation and improves your internal and external communication. Commbox allows businesses to communicate at scale with customers through all channels such as WhatsApp, SMS, video chat, chat, social networks, and much more. More than that, you can set up bots and automation processes seamlessly to and improve your whole customer journey.
Leading companies in various industries discovered Commbox's CRM integration. One example is Fatal hotel group. Fatal adopted Commbox's Oracle Service Cloud CRM integration and uses it to automate its workflow and manage relationships with millions of customers. 
Conclusion
Integrating your CRM with customer communication tools improves internal communication and allows your business to manage customer relationships more effectively. However, not using CRM integration might create gaps across departments, leading to poor customer experience and loss of revenue.
Integrate Commbox with your CRM to scale up your internal communication, and better manage customer data across your organization. Communicate on multiple channels, build better customer relationships, enhance customer satisfaction and increase revenue over time.
About Commbox
Commbox offers an innovative solution for customer interactions, creating a holistic customer communication experience. Using the Commbox platform, companies and enterprises can automate recurring tasks that are excessively time-consuming, allowing your agents to focus on more critical tasks. Commbox paves the way for autonomous business communication without losing the quintessential human touch.
Commbox's mission is to pave the way for companies worldwide to become autonomous enterprises, without losing their quintessential human touch.